Counseling or Life Coaching For Individuals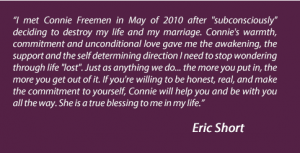 One on one counseling gives you an opportunity to look at what's working in your life and what's not working in your life.  In a one-to-one relationship, we will determine what areas and issues in your life you want to change.
We will look at life long patterns or habits you picked up as a way to protect yourself from fear, rejection and pain. You may have a problem to solve or you may need to improve your personal relationships. Maybe you are stuck at one of life's major crossroads and unable to navigate the intersection alone. Together, we will explore options to break these cycles and look at the barriers that keep you from growing.
As these areas or challenges are identified we will develop a practical plan and you will be asked to take action steps that will ultimately lead you to your goals and dreams.
Life Coaching sessions typically take place from 2-4 times a month depending on your situation. I prefer to work with you face to face but at times, phone sessions can be arranged. Each session is 50 minutes in length and the cost is $75 a session.