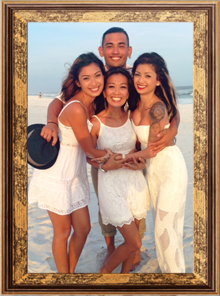 (Jo – Middle & Sarah – Left)
Jo – "Going through the Barnabas Journey was one the most rewarding experience I have ever had. It totally changed my life!! Barnabas helped me dig down into the very core of my being to face the reality of my life. I found my self-worth and confidence again.
Because of this journey, I no longer feel shame or regret some of the tough decisions I've had to make. My perspective about life and relationships has radically transformed the way I live. Today I live life fully, unashamed, with total transparency and authenticity. The journey was challenging, but oh, it was all worth it.
When my daughter told me she wanted to go to Barnabas, I was thrilled. As I had hoped, she came home with a renewed sense of purpose and we now enjoy a transparency and shared set of tools to relate to each other and our world. I am so proud of her!"
Sarah – "When my mother went through Barnabas, I remembered how difficult those weekends were for her. I saw her get to know herself and she came home a different person. Finally, she could see the true beauty that I've seen my whole life. I could see that she faced some of her biggest fears and really got down to the root of her pain. I didn't know if I had the courage to do that. Throughout the year, I continued to see a definite change in her character and behaviors. She was more compassionate, real, and I could see she was living the abundant life I've always wanted. I thought, "Mom, I want what you have!" So I built up enough courage to join the journey as well. I have never felt so fully alive and free. Barnabas was hard work, but I've learned so many practical tools that will help me in the long run of life that I could not have learned on my own. I learned what healthy relationships should look like and what living a courageous life meant. The journey can be for anyone. It just takes a mustard seed of faith."